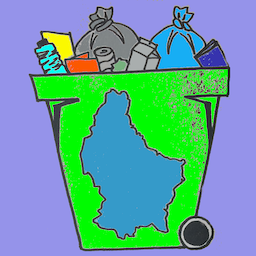 Never forget again to bring out your trash for pickup!!

The app is now available for FREE in the App Store and Play Store.
Follow us on Facebook !
Do you know that? You see the garbage collection truck pass your house and are annoyed because you forgot to put out the garbage (again).
Every municipality sends you a calendar with the collection/pickup dates every year. Most of them can be remembered relatively well. For example, if the gray garbage bin is picked up every Friday.
However, this becomes more difficult with a variety of garbage types, which are collected only once a month (eg. glass or paper). Then it is particularly annoying, if you had a party last week and the glass bin is already full and the next collection is next month.
Or, if, for example, a holiday is due, then it may happen that the gray bin is emptied a day earlier or Saturdays.
The app helps you to remind you when to put the garbage out with a notification at the chosen time.
In addition, when you open the app, it shows you the next collection date for all garbage types.

Currently available cities are:
Bascharage, Beaufort, Bech, Beckerich, Berdorf, Bertrange, Bettembourg, Bettendorf, Betzdorf, Bissen, Biwer, Boulaide, Bourscheid, Bous, Clervaux, Colmar-Berg, Consdorf, Contern, Dalheim, Diekirch, Differdange, Dippach, Dudelange, Echternach, Ell, Erpeldange-sur-Sure, Esch/Alzette, Esch-sur-Sure, Ettelbruck, Feulen, Fischbach, Flaxweiler, Frisange, Garnich, Goesdorf, Grevenmacher, Grosbous, Heffingen, Helperknapp, Hesperange, Hobscheid, Junglinster, Kayl, Kehlen, Kiischpelt, Kopstal, Lac Haute Sure, Larochette, Lenningen, Leudelange, Lintgen, Lorentzweiler, Luxembourg, Mamer, Manternach, Mersch, Mertert, Mertzig, Mondorf, Monnerich, Niederanven, Nommern, Parc Hosingen, Petange, Preizerdaul, Putscheid, Rambrouch, Reckange sur Mess, Redange/Attert, Reisdorf, Remich, Roeser, Rosport, Rumelange, Saeul, Sandweiler, Sanem, Schengen, Schieren, Schifflange, Schuttrange, Stadtbredimus, Steinfort, Steinsel, Strassen, Tandel, Troisvierges, Useldange, Vallée de l'Ernz, Vianden, Vichten, Wahl, Waldbillig, Waldbredimus, Walferdange, Weiswampach, Wiltz, Wincrange, Winseler, Wormeldange.

After telling the app in which city of Luxembourg you live, it will present you the next pickups (by type) and it will remind you at the selected time!
If you select a time before 00:00, the reminder will be sent the day before pickup. Otherwise on the same day in the morning.
Important: please read the End-User License Agreement before using our application